Welcome to
Golden Curls Ranch!
7480 CR 4095 Kaufman, TX 75142
We use natural horsemenship in our training at Golden Curls Ranch and we find our horses to be highly intelligent, very willing and perfect for the first time rider. Our horses are known to be hypoallergenic. If you have allergies to horses, our horses are meant for you! Safety is of paramount concern at Golden Curls Ranch and we ask that riders always use safety equipment when riding.
We would like to share our wonderful O'Sparky, an approximately five year old Curly Mustang Stallion. O'Sparky was gathered from the Winnemucca Herd Management Area in Nevada in 2009. His registered name is Black Rock's Golden Firefly and he is registered with American Bashkir Curly Register, International Curly Horse Organization, North American Mustang Association and Registry and Wild Horse and Burro Association. Here is a video of his first Cowboy Dressage test with Gina Wiese.
Meet Our Trainer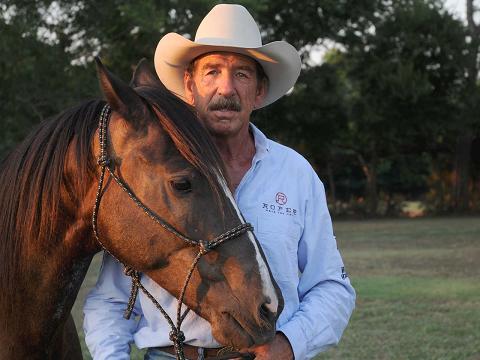 With more than 40 years in and out of the horse world, I've seen good and bad when it comes to training horses. 25 yrs as a certified Farrier, 10 yrs riding rough stock and many yrs of training throughout has taught me to develop a relationship along with, not aside from, the foundation of a horse. One must have a good relationship and partnership if we are to teach the foundation needed to go into any discipline of riding.
Contact Info: 903-873-8430
e-mail: loboinme@yahoo.com
We hope that you will visit soon. We are located 30 miles southeast of Dallas off of 175 & Highway 34, before you reach Cedar Creek Lake. Come see the many exceptional benefits our horses have to offer.
Please remember to refresh your browser often to see the newest updates!
Check us out on Facebook or on Youtube!

Angie is Secretary of Curly Mustang Association, a subsidary of
International Curly Horse Organization.
Curly Mustang Association is a non-profit, no membership fee, organization that helps Bureau of Land Management gathered Curly Mustangs find wonderful forever homes and helps raise monies for research with the help of Dr. Gus Cothran at Texas A&M University
Visit us at on Facebook for updates:
https://www.facebook.com/pages/Curly-Mustang-Association/118765398176760?fref=ts
Update: We are so excited to announce that O'Sparky is now registered with Wild Horse and Burro Association!
Wahoo, we are so very proud of our O'Sparky and feel he is a great contribution to the Curly World. We are offering a limited number of breedings. We feel this is important for both the the purchaser's investment and the horse world in general. O'Sparky brings to the Curly World what the original Curlies brought with new lines and we feel strongly that the Mustang addition is important to the future of the Curly horse that we know and love today. http://www.abcregistry.org/#/stallionatstud3/4569570794
Please contact angie@goldencurlsranch.com for more information.
For Lease:

Creek Colonel Travis, aka, Jett
If you are looking for a wonderful riding partner and are not ready to make the commitment to purchase consider leasing our Jett. He is a beautiful Curly with a great personality. He is ready for an intermediate riding partner who is ready to share the trails and compete in the shows. Contact angie@goldencurlsranch.com for more information.
Check out these videos of Jett!